Head to Head: Mohamed Salah vs Bruno Fernandes
🕒 Reading Time: 2 mins
This weekend brings us, without a doubt, the biggest game of the season so far. Champions Liverpool take on current league leaders Manchester United at Anfield in the North West Derby and we couldn't be more excited. Here's how key men Salah and Fernandes fair so far this season in another Footi Head to Head.
Sunday's Game
Liverpool's last game saw them lose on the road in a surprising 1-0 defeat to Southampton, however, their home record is another story.
Liverpool are undefeated at home in a club-record 66 games. Their last defeat was a 2-1 loss against Crystal Palace in April 2017, making Anfield a fortress in recent years.
However, United come into the game with a formidable away record this season. They have 22 points from 8 away games with 7 wins, 1 draw and 0 losses. They've also scored 22 goals on the road. They haven't lost a game since a 1-0 defeat to Arsenal at Old Trafford back at the start of November.
Both teams look a different beast to what they were last season in contrasting ways. Liverpool's defensive problems through injury have made them vulnerable. That aside, they are still a powerhouse and the team to beat this season.
United on the other hand has somehow managed to get results, even when performances haven't been anywhere near the quality of United of old. Moments of brilliance have been on display and they've often shown the tenacity to dig deep and come back from losing positions to win. In fact, they now hold the record of more points from losing positions of any team in Premier League history.
This game will truly be a very interesting encounter.
Mohammed Salah
If some reports are to believed Liverpool's talisman is unhappy this season with speculation of a big move out of the club. On the other hand, a contract extension is apparently on the cards to extend his deal beyond the 2023 expiry. Regardless of speculation, one thing is true for all to see - Salah is a top, top player.
He has 13 goals and 3 assists this season making him the Premier League's current top scorer and he'll be keen to add to the tally this weekend against Liverpool's bitter rivals.
Partner him with Mane and Firmino and you've got a formidable attacking threat which has consistently shipped a shed load of goals.
Bruno Fernandes
It's fair to say Fernandes would walk into the starting lineup of any team on the planet right now and is currently valued as the 4th most expensive player in the world at €151.1m/£136.5m. Not bad for a player who only arrived at Old Trafford a year ago for €55m/£47m, but what a year it has been. He is United's top scorer this season scoring 11 goals and 8 assists.
Take him out of the team and the picture is very different and one Ole can't afford to make against rivals Liverpool. He's played over 2000 minutes across all competitions this season, so one could argue fatigue is setting in, however in his last 5 games alone he's still managed to score 4 goals and assist 3. Not bad for a player who could dearly do with a rest, but United can't afford to leave out their star man.
Head to Head Stats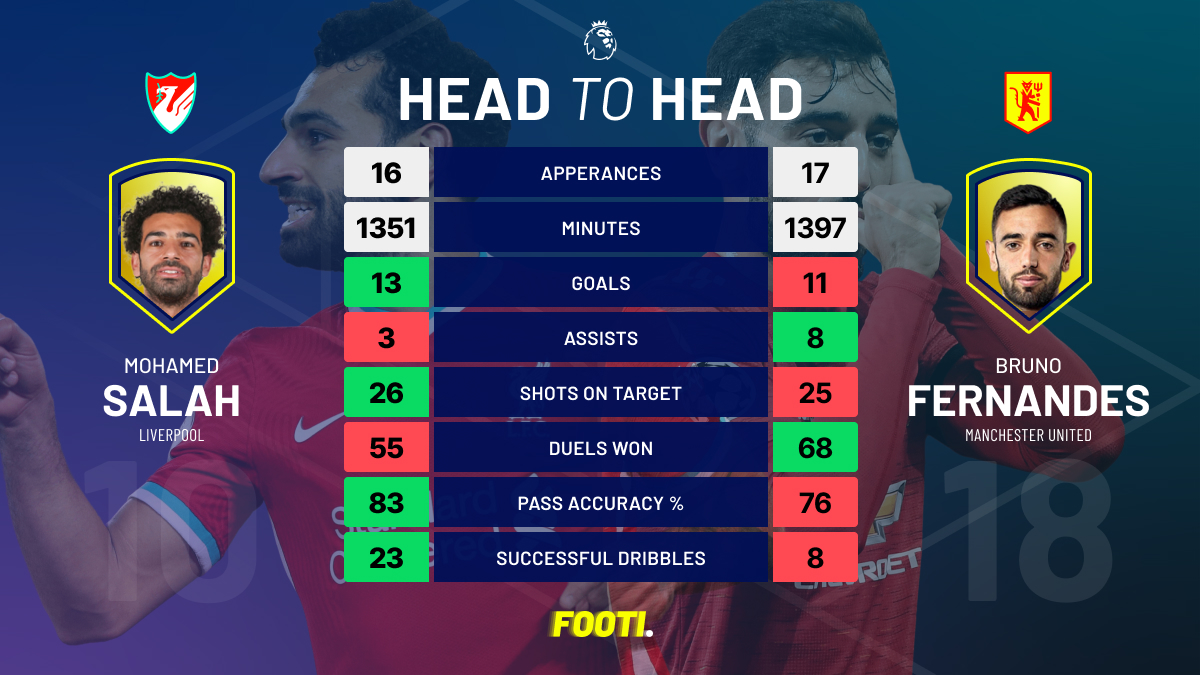 Footi Predicts
Given Liverpool's home record and United's current away form, we're expecting them to cancel each other out. Footi predicts a tight game resulting in a 1-1 draw.
Liverpool take on Manchester United on Sunday at 4:30pm and you can follow all the action live, here on Footi.