Footi Year in Review
🕒 Reading Time: 2 mins
As the Premier League concludes for another season, we reflect on the closing games, the updates we've made to Footi and what's coming in the near future.
⚽ 21/22 Season Review
It has been a season full of high-octane drama that went right to the wire on the final day, resulting in heartbreak for Liverpool fans. It seemed like a fairytale ending was on the cards for Jürgen Klopp's reds when none-other-than Liverpool Legend, Steven Gerrard's Villa had gone 2-0 up against Man City with 21 minutes left on the clock, putting Liverpool on course for their 2nd title in 3 years. It wasn't to be, however, as City pulled off a simply remarkable comeback, scoring 3 goals in 5 minutes and eventually beating Villa 3-2 to secure a back-to-back Premier League title. This is why the Premier League is the best league in the world!
Chelsea finished third but have a lot of ground to make up next season. There was a huge 18 points between them and second-place Liverpool, but regardless, that secured a lucrative spot in next season's Champions League. There are interesting times ahead for Chelsea in a post-Abramovich era, with a consortium led by Todd Boehly now in control.
Arsenal and Spurs fought it out for fourth place and the final Champions League spot. Hit or miss Arsenal had to settle for fifth and a place in the Europa League after jostling with Spurs in the final run-in.
At the other end of the table, Leeds survived by the skin of their teeth as Burnley became the 3rd team to be relegated to the Championship along with Watford and Norwich, after suffering defeat at home to Newcastle.
Elsewhere, after Ronaldo's triumphant return, Ole's dismissal and Wreck-it-Ralf Rangnick at the wheel, Man United's turbulent season concluded with their worst-ever points tally in Premier League history, finishing sixth with back-to-back defeats to Brighton and Crystal Palace.
Needless to say, we're already excited for next season and you can catch all the games here on Footi.
🆕 New to Footi this Season
Improved Live Matches + New Live Scores Page
We rebuilt our Live Scores page from the ground up to make it faster, meaning it will update more regularly bringing you the latest stats and scores as the action happens.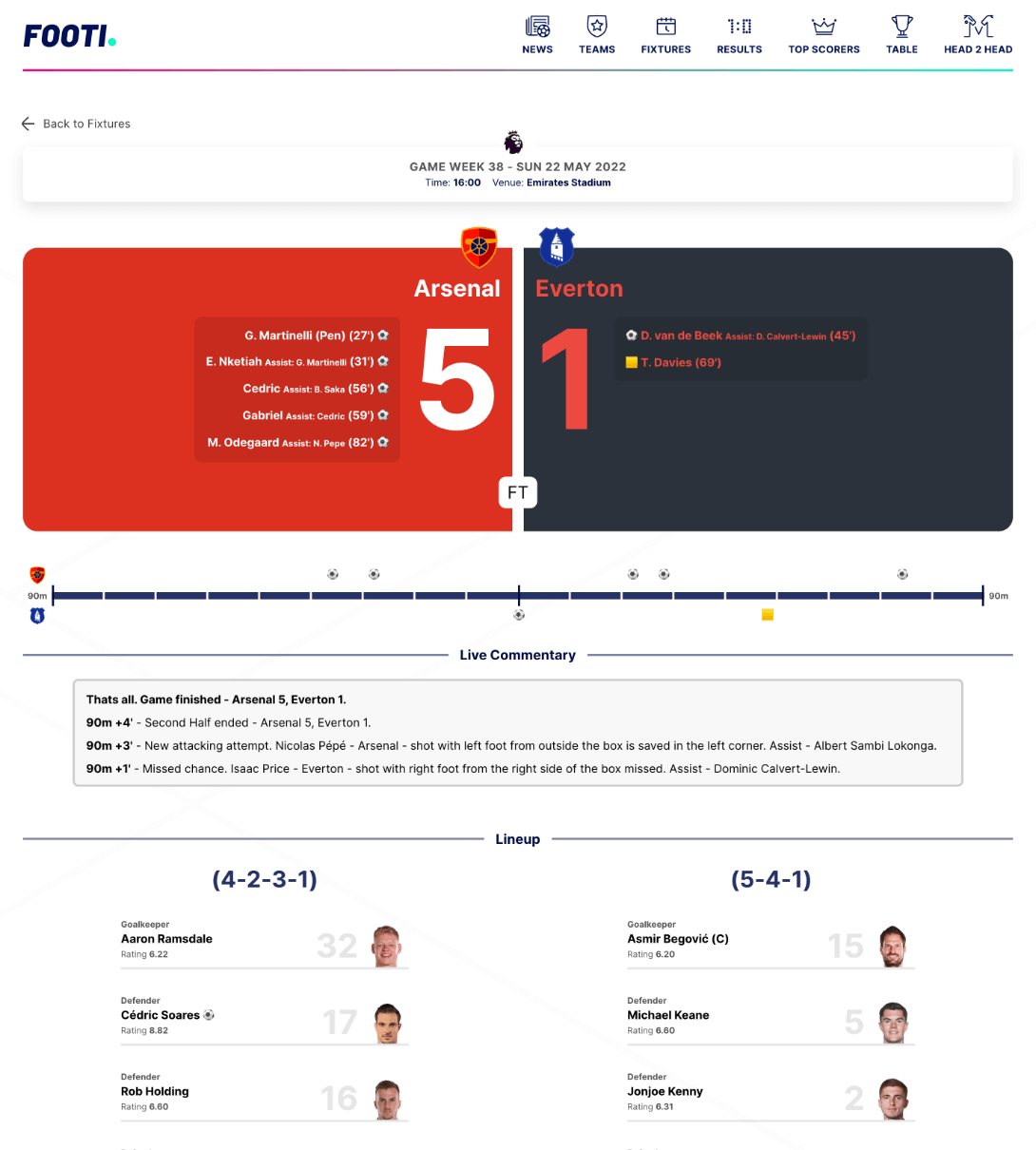 Live Scores on the Homepage
We added Live Scores to the Footi homepage, Teams pages and Fixtures page, meaning you can see the latest scores at-a-glance.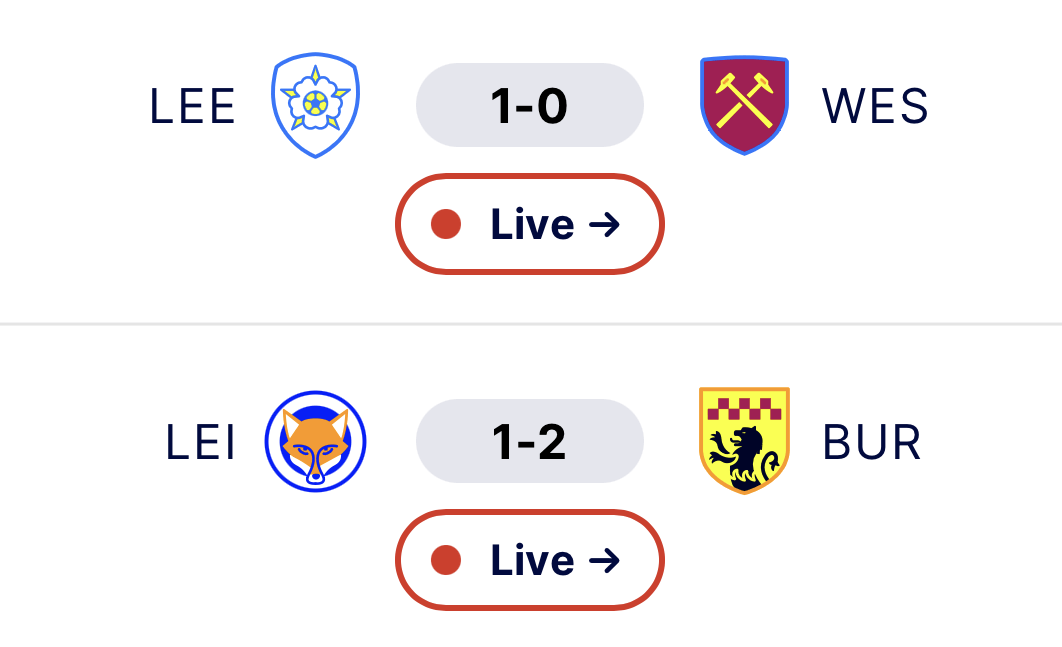 New Head-to-Head Team and Player Stats Comparison Tool
We launched a new team and player head-to-head tool that allows you to compare season stats. A useful tool to preview matches and see how teams or players are performing. [Check it out now](/head2head)
New Look Top Scorers
We've redesigned the look of our top scorers and included stats on goals scored from the penalty spot. We've also added a new Top Assists overview to show the players assisting the most goals in the league. [Check it out now](/top-scorers).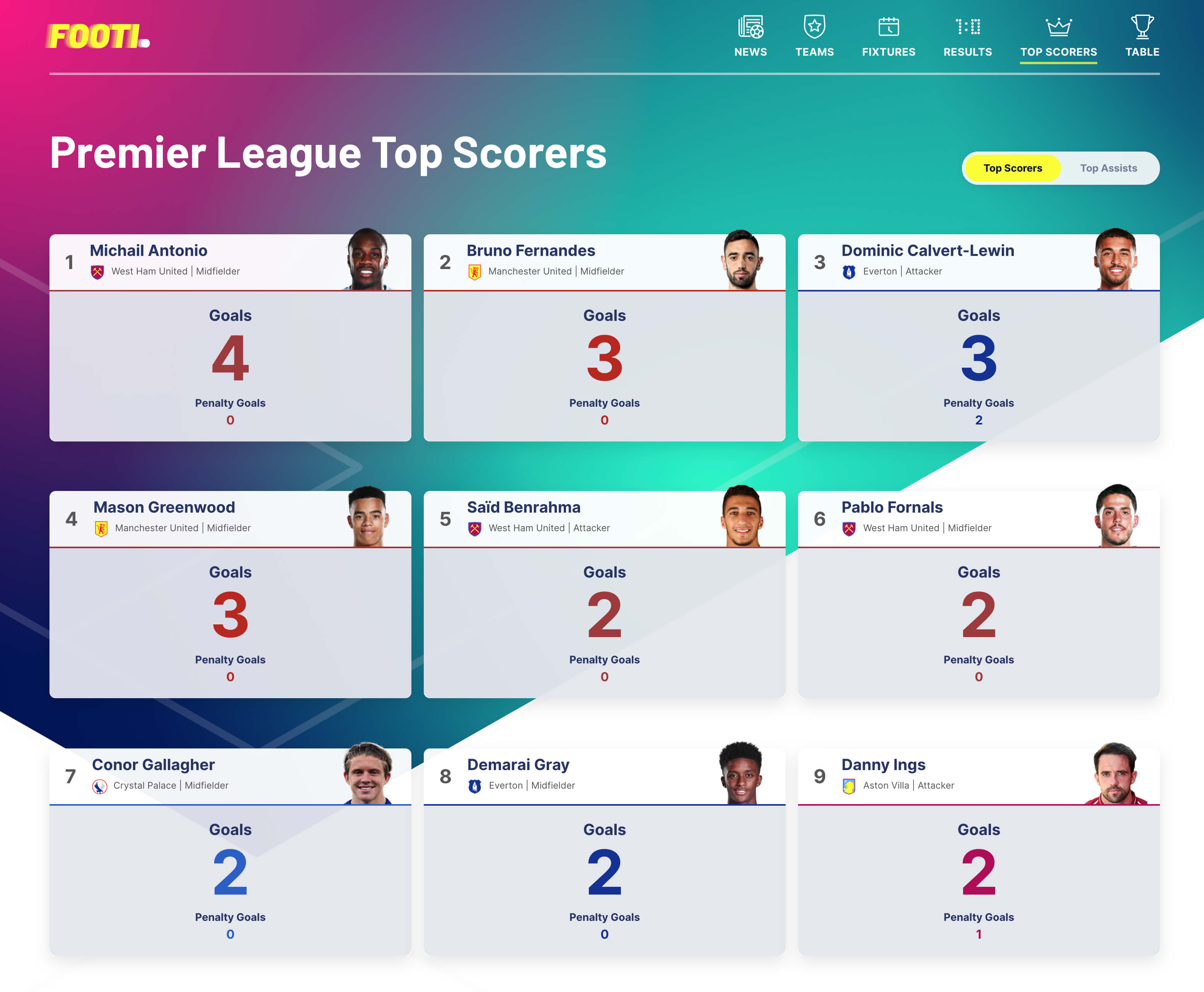 News for every Premier League Club
We now have more news, aggregated from more sources so you'll never miss the breaking stories.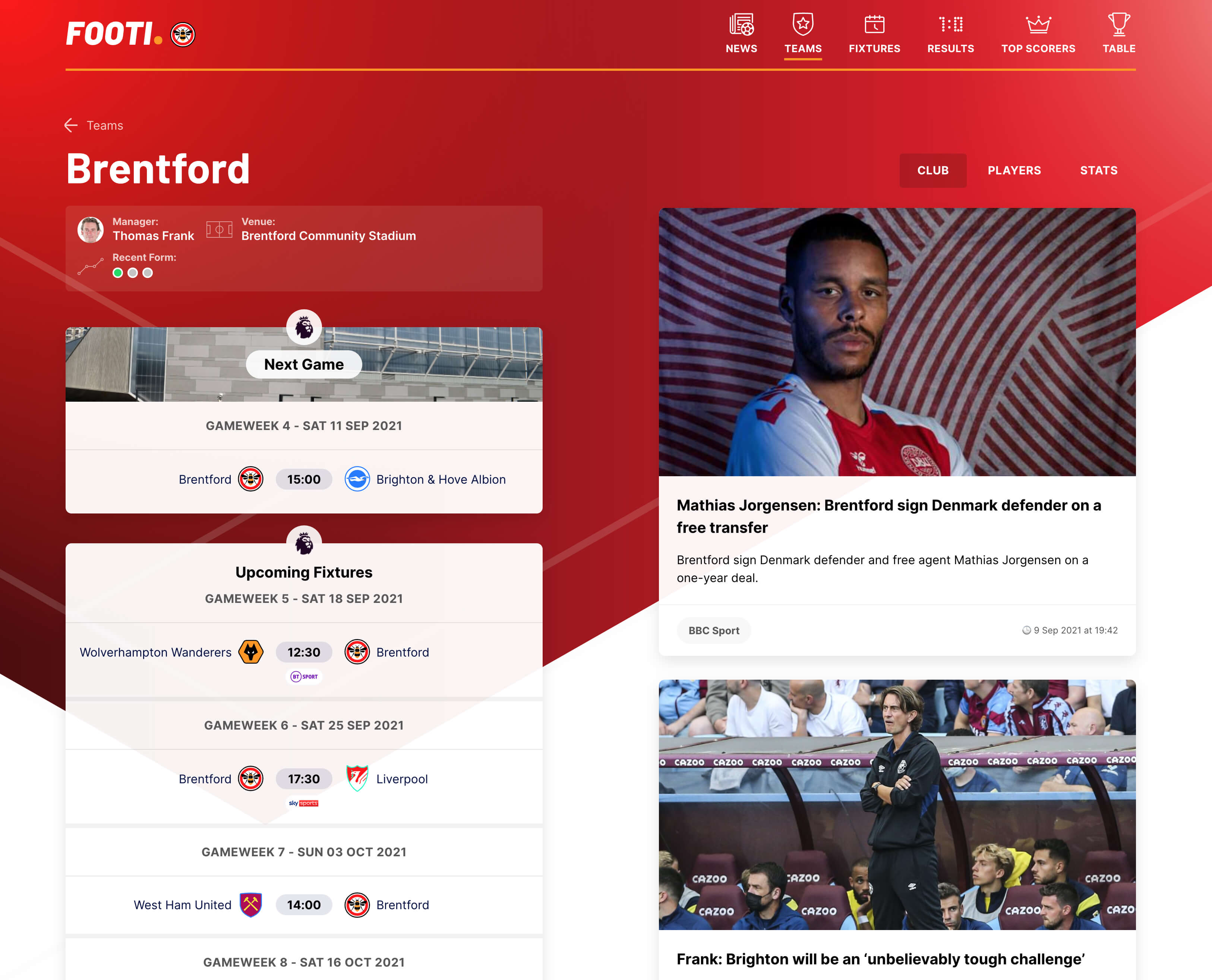 We can now also bring you the latest news from all 20 Premier League clubs. We're excited to bring this improvement to you and hope Footi will become your one-stop for Football news.
🌲 We're Carbon Neutral
The environment is very important to us, that's why from Day 1, **Footi was built with sustainability at the forefront**. On the face of it Footi looks like another football website, but underneath is where it is uniquely different. It's built using serverless technologies meaning it's faster, more accessible and has a much lower carbon footprint than other football websites. In fact it produces **8 - 10 times less CO2** than the official Premier League website.
To further our commitment to the environment and our aim of reducing our digital impact we offset the carbon produced from visitors to our site by planting trees. You can check out our CO2 impact at Tree Nation and know that by visiting Footi you're making a difference to the planet.
🔜 Coming Soon
We're going to be adding more more Competitions including the FA Cup and we'll also be bringing you Match Reports for all competitions including the European games, later in the year. We're also planning a media page where you can catch the highlights for your club's Premiership games.